Back to News & Media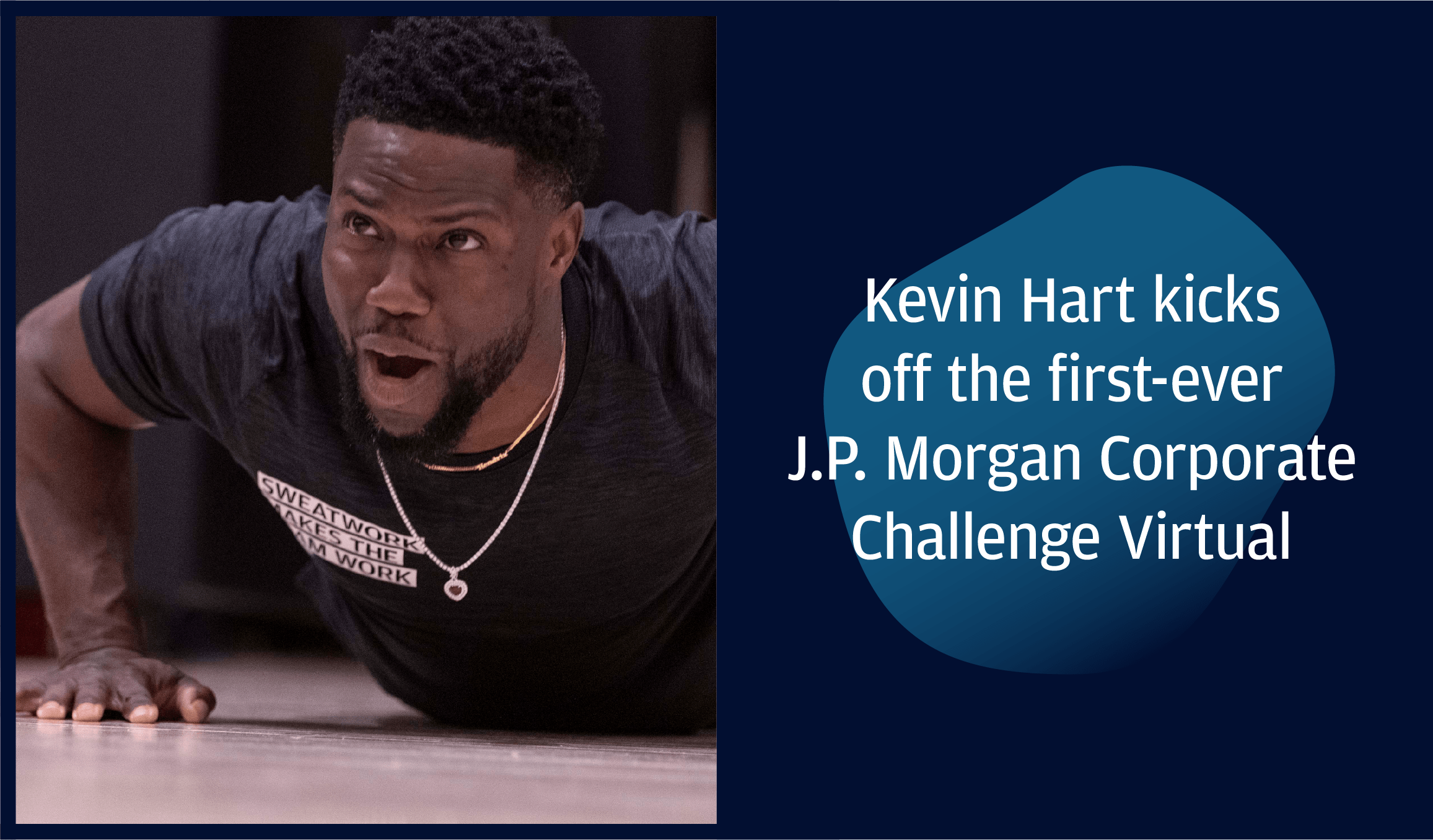 Video Transcript
Logo: J.P. Morgan Corporate Challenge.
On screen: Actor, Comedian, & Producer Kevin Hart speaks to the viewer remotely. Kevin Hart pretends to be knocking on our digital device's viewing screen, as if he is rapping on a windowpane.
Kevin: Hey! Hey You! Hey, do me a favor, back off that screen that you've been sitting behind for months. It's time to join the J.P. Morgan Corporate Challenge Virtual and remix the run. Remix, re-re-re-re-remix the run.
On screen: As a man blow an airhorn, hundreds of runners dart across a starting line labeled "J.P. Morgan Corporate Challenge." They wear shirts with different corporate logos.
Kevin (VO): I'm giving you an invite to the elite business event of the year!
On screen: A montage shows Corporate Challenge participants running in different metropolitan cities.
Kevin (VO): 15 cities across 6 continents are teaming up for 1 global run.
On screen: High-spirited participants greet one another, fist bump, cheer, and make the "thumbs up" gesture.
Kevin (VO): For 43 years JPMorgan's been bringing industries and colleagues together to sweat at their own speed, network and have fun.
On screen: A montage shows different Corporate Challenge races throughout the years. Some participants run with expressions of focused determination, other joggers and walkers have wide smiles. Spectators cheer as an athletic woman crosses the finish line first.
Kevin (VO): But this year we're rocking a remix.
On screen: A montage shows the participants running in reverse. Then a D.J. spins an old-style vinyl record backwards. Next, Kevin Hart speaks to the viewer, again, virtually from his home.
Kevin: 2020 shook us all to the core and guess what? Things changed overnight, but that doesn't mean it's over! The beat goes on.
On screen: More racers dash toward the finish line.
Kevin (VO): That's right! The J.P. Morgan Corporate Challenge global powerhouse event is coming your way virtual style, with a few new features.
On screen: An infographic shows a website displaying: scenes from past Corporate Challenges; the time left before Team Captain registration opens; and options to access content using transcripts or audio description. Another page labeled "Registration" shows 15 cities highlighted across a world map.
Kevin (VO): Stay connected with your team and track your results with our brand-new mobile app!
On screen: A mobile device displays: the Corporate Challenge logo; a welcome screen; the date and time for New York City's run; and an Activity Log. Another screen displays: miles ran; elapsed time; current pace; and best finish time. Then, a close-up of Kevin Hart.
Kevin: And you better believe that old K. Hart himself is getting in on the action and I'm bringing my whole team to pound the pavement with me. Brace yourselves.
On screen: A montage shows Kevin Hart, in a coach's shirt, demonstrating push-ups and plank exercises.
Kevin (VO): Whatever your pace – run, walk, jog – over hours, days, weeks, it's up to you!
On screen: A montage shows J.P. Morgan Corporate Challenge runners, walkers, joggers, and wheelchair users.
Kevin (VO): The challenge is to keep moving one step at a time towards your goal.
On screen: Members of a Corporate Challenge team raise their arms in a victorious cheer. Then, Kevin Hart continues speaking remotely.
Kevin: So dust off those limbs and get your teams together, and let's do this!
On screen: Kevin Hart leaps forward, leaving his swivel chair spinning behind him!
Kevin (VO): Register on our website. Team captain registration begins on August 25th. Participant registration begins on September 8th.
Text on screen: Register at jpmorganchasecc.com. Hashtag: Remix The Run.
Logo: J.P.Morgan Corporate Challenge (registered trademark.)
Text on screen: Facebook at JPMorgan Corporate Challenge. Twitter at JPMorgan. Hashtag JPMCC. Hashtag Remix The Run.
END
Kevin Hart kicks off first-ever J.P. Morgan Corporate Challenge Virtual
September 8, 2020
The 2020 J.P. Morgan Corporate Challenge will be held virtually in October, and companies around the world can compete completely free of charge.
Registration is now open for the complimentary J.P. Morgan Corporate Challenge Virtual, in which registered participants will have the ability to run or walk their own 3.5 mi / 5.6 km course, without teammates or crowds, respecting social distancing guidelines from local authorities.
Registered entrants will have a window between October 8-22 to participate and submit their times.
Corporate Challenge Virtual replaces in-person racing, which was cancelled in its entirety in June due to the ongoing uncertainty of the effect of COVID-19. It is the first time since 1977 that there will not be a live Corporate Challenge.
But Corporate Challenge Virtual presents the next best thing.
"For 43 years, companies around the world have participated loyally, and with growing numbers, in the Corporate Challenge," said Ariel Johnson Lin, Executive Director in Sports & Entertainment Marketing for JPMorgan Chase. "In these uncertain times, providing those same companies a Corporate Challenge experience with as many of the familiar trappings as possible, at no charge whatsoever, is our way of saying thanks."
Basically, Corporate Challenge Virtual works the same way, registration-wise, as a traditional Corporate Challenge. A team captain begins the registration for their company, and then employees can register for a spot on the company team. All of this is available now.
There are three exciting additions to Corporate Challenge Virtual, however:
There is no limit to the number of entries. In-person Corporate Challenge events generally reach capacity, but that will not be an issue for Virtual.
There are no geographic restrictions. When registering, team captains and their team members will be asked to select the Corporate Challenge market which has the closest link to them by previous participation, nationality, or sentiment. Multinational companies can compete with their colleagues from every office around the world.
Instead of submitting finishing times on our Series Web Site, there will be a new J.P. Morgan Corporate Challenge App, which will be available in both the Apple Store and Google Play. We will provide additional information on the App soon.
And there are some perks, beyond the complimentary entry fee. The JPMorgan Chase Foundation has pledged to make full donations to not-for-profit organizations this year throughout the Series cities in celebration of entrants who take advantage of Corporate Challenge Virtual. And entrants in Corporate Challenge Virtual will also receive the opportunity on a first-come, first-serve basis to receive a 2020 Corporate Challenge Finisher T-Shirt.
The J.P. Morgan Corporate Challenge was founded on July 13, 1977 in Central Park as a standalone event and has now grown to 15 markets in eight countries on all six inhabited continents. Dallas, Philadelphia, and Buenos Aires have joined the Series in 2020, and will make their debut in Corporate Challenge Virtual.