Back to News & Media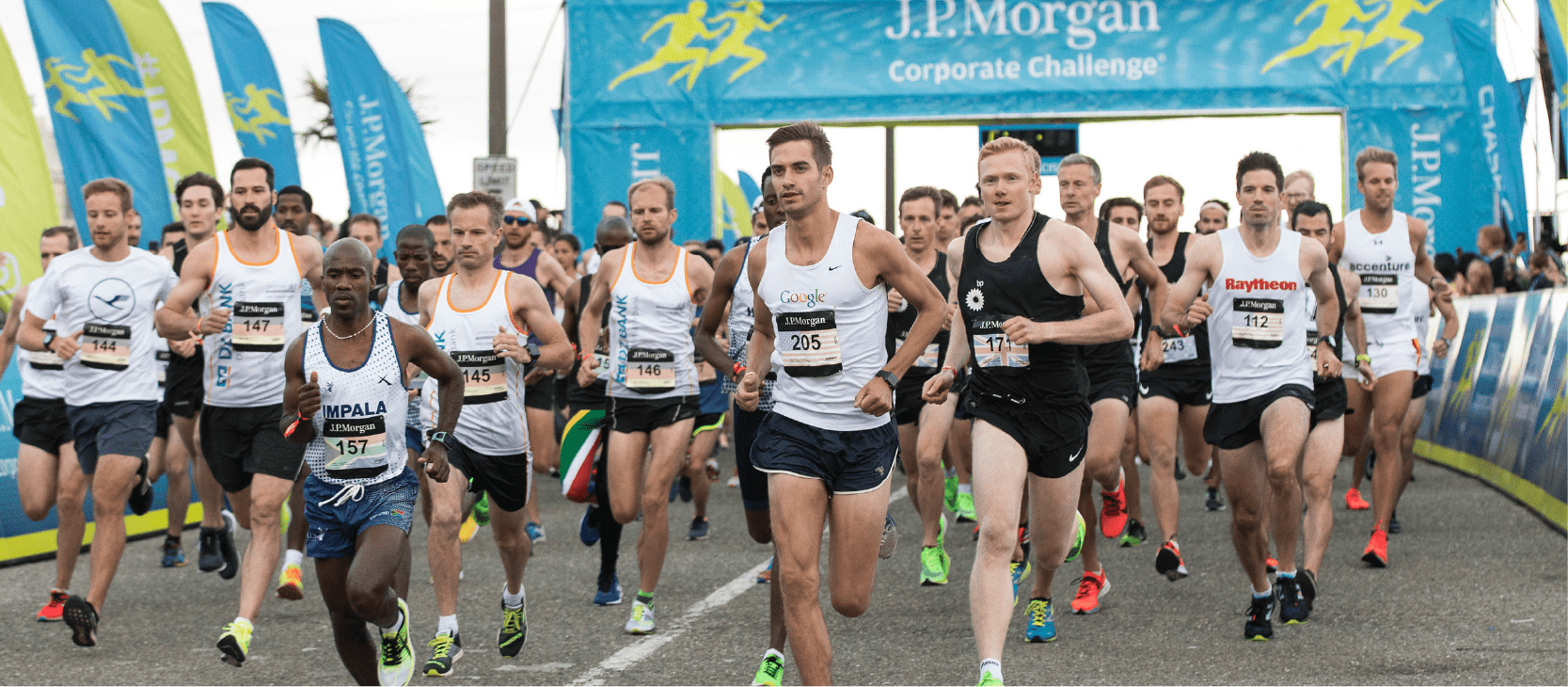 Complimentary registration available now for October 8—22 Corporate Challenge Virtual
September 8, 2020
The 2020 J.P. Morgan Corporate Challenge will be held virtually in October, and companies around the world can compete completely free of charge.
Registration is now open for the complimentary J.P. Morgan Corporate Challenge Virtual, in which registered participants will have the ability to run or walk their own 3.5 mi / 5.6 km course, without teammates or crowds, respecting social distancing guidelines from local authorities.
Registered entrants will have a window between October 8-22 to participate and submit their times.
Corporate Challenge Virtual replaces in-person racing, which was cancelled in its entirety in June due to the ongoing uncertainty of the effect of COVID-19. It is the first time since 1977 that there will not be a live Corporate Challenge.
But Corporate Challenge Virtual presents the next best thing.
"For 43 years, companies around the world have participated loyally, and with growing numbers, in the Corporate Challenge," said Ariel Johnson Lin, Executive Director in Sports & Entertainment Marketing for JPMorgan Chase. "In these uncertain times, providing those same companies a Corporate Challenge experience with as many of the familiar trappings as possible, at no charge whatsoever, is our way of saying thanks."
Basically, Corporate Challenge Virtual works the same way, registration-wise, as a traditional Corporate Challenge. A team captain begins the registration for their company, and then employees can register for a spot on the company team. All of this is available now.
There are three exciting additions to Corporate Challenge Virtual, however:
There is no limit to the number of entries. In-person Corporate Challenge events generally reach capacity, but that will not be an issue for Virtual.
There are no geographic restrictions. When registering, team captains and their team members will be asked to select the Corporate Challenge market which has the closest link to them by previous participation, nationality, or sentiment. Multinational companies can compete with their colleagues from every office around the world.
Instead of submitting finishing times on our Series Web Site, there will be a new J.P. Morgan Corporate Challenge App, which will be available in both the Apple Store and Google Play. We will provide additional information on the App soon.
And there are some perks, beyond the complimentary entry fee. The JPMorgan Chase Foundation has pledged to make full donations to not-for-profit organizations this year throughout the Series cities in celebration of entrants who take advantage of Corporate Challenge Virtual. And entrants in Corporate Challenge Virtual will also receive the opportunity on a first-come, first-serve basis to receive a 2020 Corporate Challenge Finisher T-Shirt.
The J.P. Morgan Corporate Challenge was founded on July 13, 1977 in Central Park as a standalone event and has now grown to 15 markets in eight countries on all six inhabited continents. Dallas, Philadelphia, and Buenos Aires have joined the Series in 2020, and will make their debut in Corporate Challenge Virtual.