Back to News & Media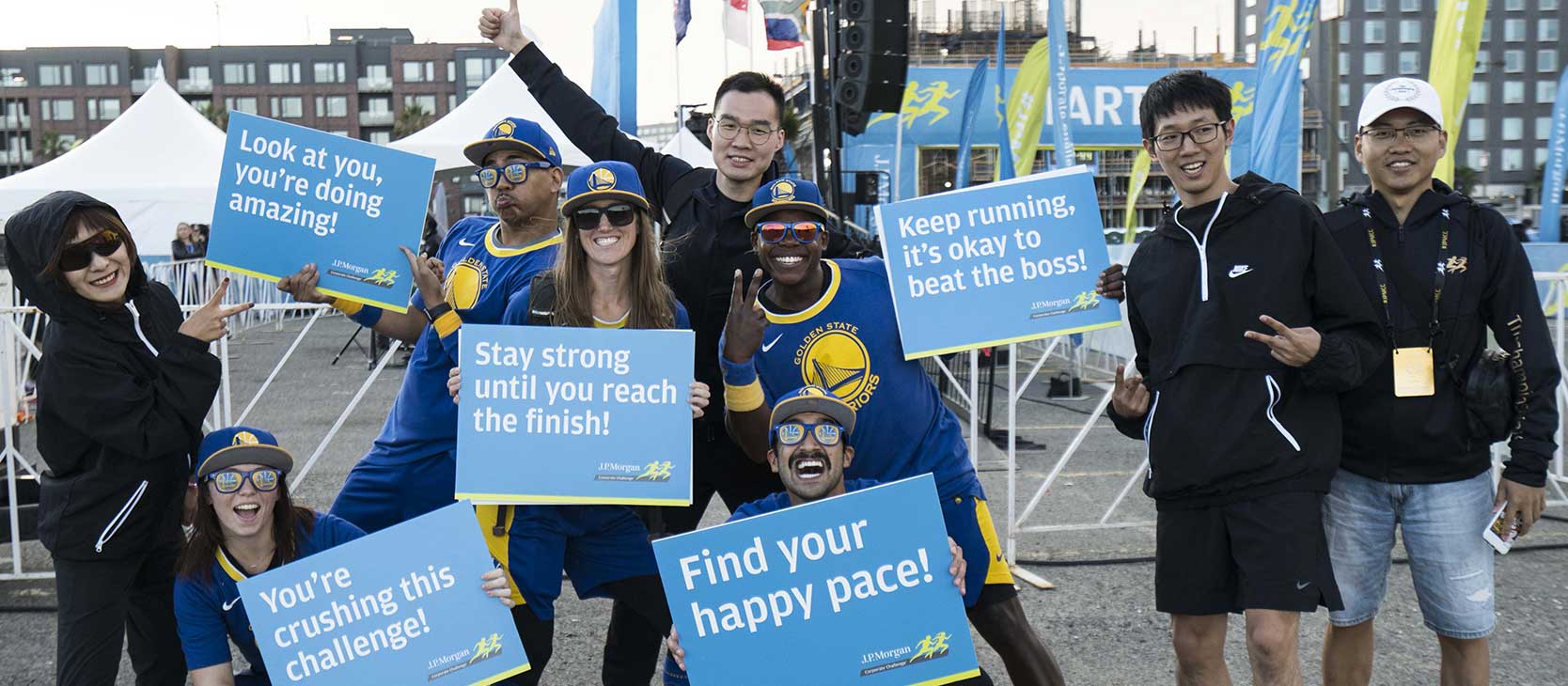 San Francisco Corporate Challenge beneficiaries educating future leaders in a Virtual world
San Francisco, November 12, 2020
Whether back in a classroom or logging onto a virtual learning session, education creates substantial and lifelong benefits for young individuals, and the overall economy. According to JPMorgan Chase Commercial Banking economist Jim Glassman, "education is highly correlated with labor market participation." In fact, the U.S. Bureau of Labor Statistics reported that college-degree holders have had lower unemployment rates during the pandemic compared to those without. However, not everyone has access to the same educational support and tools to carry them through college.
In celebration of this year's J.P. Morgan Corporate Challenge Virtual in San Francisco, JPMorgan Chase is donating to two Bay Area non-profits through its partnership with the six-time NBA Champion Golden State Warriors, and the philanthropic arm of the franchise the Warriors Community Foundation. Both Bay Area non-profits SEO Scholars and Oakland Promise are working to change the game for young future leaders experiencing barriers to educational opportunity. This is one of 15 donations made in every Corporate Challenge Virtual metropolitan market around the world.
The Warriors Community Foundation supports educational equity and youth development to promote thriving students, schools and communities, and recently announced $1.825M to be awarded to 53 local non-profits as part of its annual grants cycle. The grants will support a range of programs and organizations, including investments in early childhood development, elementary literacy, middle schools, STEM, and college access and persistence. The Warriors Community Foundation has surpassed $24 million in impact to support education and youth development in the Bay Area —including over $15 million in cash grants—since the foundation's inception in 2012.
Taking a Holistic Approach to Education
For low-income and first-generatkion students, only 11% received bachelor's degrees after 6 years, compared to 55% of their more advantaged peers, according to The Pell Institute. For SEO Scholars, the solution is a holistic approach to education.
"Since 2011, we've added a cohort of motivated 9th-grade students to SEO Scholars San Francisco each year, 95% of whom will be the first in their family to graduate from college," shares Omar Wandera, SEO Scholars San Francisco's Executive Director. "With the longtime support of the Warriors Community Foundation and the J.P. Morgan Corporate Challenge, SEO Scholars has grown our impact in the Bay Area after launching our college access program."
Founded in 1963, the bi-coastal nonprofit provides an eight-year academic program that educates and mentors underserved and underrepresented public high school students to and through college. Their results are unparalleled, with 90% of Scholars graduating from a 4-year college.
"The moment we joined SEO, we signed up to be trailblazers," says Evelyn, an SEO Scholar addressing her fellow 2020 Scholars during this year's virtual graduation ceremony. "SEO has opened doors to amazing opportunities. Beyond giving us the tools we need to succeed, SEO has given us a strong community."
Due to COVID-19, things look different this year. In March, SEO's programming had to go virtual and swiftly. The team quickly adapted SEO's instruction and curriculum to continue delivering rigorous English and math coursework every Saturday, one day after-school, and for 5-weeks in the summer. Despite the challenges of 2020, Scholars are engaged with SEO and focused on getting to and through college.
SEO remains steadfast in ensuring students have the full support they need despite being virtual. As with past cohorts, 100% of the class of 2020 was accepted into four-year colleges, with 85% admitted to top tier colleges and universities. Scholars remain focused on achieving their goals of college graduation and, in turn, breaking the cycle of poverty within their families.
"Our work would not be possible without the generous support of our community, the Warriors Community Foundation, and the J.P. Morgan Corporate Challenge. Thank you!" added Wandera.
A Promise towards a Better Future
Mia Bonta, Oakland Promise's CEO, has a similar bold vision. Oakland Promise works to ensure every child has an opportunity to go to college, aiming to dramatically increase the number of Oakland high school graduates to complete college in the next decade and create economic mobility through educational opportunity. "We're making sure local children have the ability to thrive, and that they have a pathway grounded in financial planning and security," says Bonta.
Oakland Promise's mission statement is to eliminate barriers to education in Oakland. Through one on one financial coaching, mentorship and college advising, financial aid, among other support offerings, local youth in need of support are given a chance to succeed.
Cierra Cryer, an alum of Oakland Promise's College Completion program and a 2020 graduate of UC Davis, has had a successful mentorship for four years. "I'm happy to have met [my mentor] and am forever grateful for the mentorship, friendship, and support!"
For Oakland Promise, the path towards a better future starts at a very young age, focusing on education from cradle to career. Through the nonprofit's Brilliant Baby program, college savings accounts have been provided to over 750 babies born into poverty in Oakland since 2016, and college starter scholarships of $100 have been given to 20,000 kindergartners and first-graders. "We want to help children and their caregivers have an understanding of what it means to go to college," explains Bonta.
Through programs like their Dream Keeper fund, College Completion work, and College Access, high school students working and going to school full time can feel supported. JPMorgan Chase also partnered with Oakland Promise to establish Future Centers at Oakland High Schools and other schools, providing students with opportunities to meet mentors, get college application assistance, learn about internships and financial aid, access technology, among other support services.
"We are so delighted to have the wonderful support from the Warriors Community Foundation and the J.P. Morgan Corporate Challenge," added Bonta. "Both organizations have been great partners with Oakland Promise in their commitment to the educational welfare of our young people in Oakland."
San Francisco was one of 15 cities in eight countries on six continents in the 2020 J.P. Morgan Corporate Challenge Series. This year, 6,762 people across 177 companies registered to participate in the Corporate Challenge Virtual event in San Francisco, conducted in October.
Visit SEO Scholars to learn more about how they're supporting educational equity and motivated Bay Area students on their journey to college graduation, and how you can get involved.
Visit Oakland Promise to learn about how they're making meaningful differences in young people's lives, and view the experiences from mentors in this video for more information about mentoring opportunities.